Experience stunning panoramic views of Sakurajima by Cessna!
Sakurajima is a volcano located roughly in the center of Kinko Bay that stands as a symbol of Kagoshima. Typically, Sakurajima can only be viewed from land or sea, but in this article we'll introduce Kagoshima Sky View, a way of taking in Sakurajima from the sky.
What is Kagoshima Sky View?
New Japan Aviation Co., Ltd., located in one corner of Kagoshima Airport, operates scenic flights dubbed Kagoshima Sky View using Cessna or Islander aircraft. This article will take a closer look at the most popular Sakurajima Course, which lasts about 30 minutes.
Full complement of security measures! Check the flight path together with your highly experienced pilot.
Whenever you take a commercial flight, you have to pass through a security checkpoint at the airport. New Japan Aviation conducts the same level of security checks. Passengers can also check their flight path using an iPad. For this trip, the plane headed straight to Kinko Bay from Kagoshima Airport and then made a complete pass around Sakurajima. In addition to Sakurajima, passengers get to enjoy views of downtown Kirishima City and Kinko Bay's caldera topography.
Column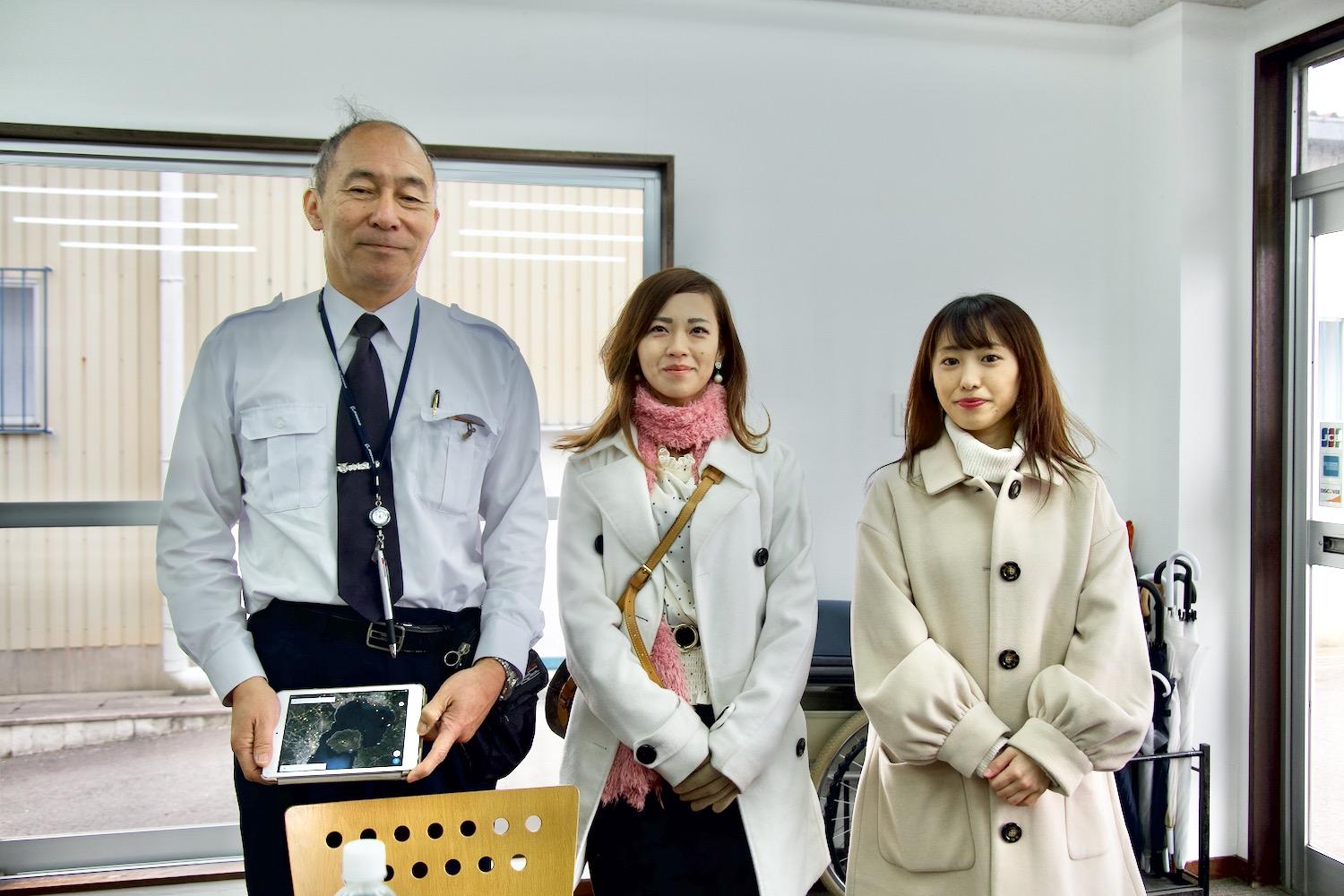 You're in good hands with a highly experienced pilot!
The company's pilots have many years of experience flying as former pilots for the Japan Maritime Self Defense Force. The friendly explanation of your flight path by your highly experience pilot is sure to ease any nervousness you may be feeling.
First head to the hangar and check out the exciting Cessnas
Inside the hangar you'll find white Cessnas. The company has a fleet of three, including the one you'll be taking. They are stored in and around the hangar awaiting their next flight. You might find yourself thinking just how cool these planes are because they are such novelties to airline travelers. Be sure to take a selfie before you board!
Once you board it's time to prepare for take-off!
You'll board one of the Cessnas waiting outside the hangar, and you'll have to bend down to board through the door at the side of the fuselage. All seats are window seats next to the door. You'll feel the vibrations of the propeller from the small aircraft in your seat. Each Cessna carries four people including the pilot. There are many instruments in front of the pilot's seat, which the pilot checks carefully.
Time to head to the sky and enjoy the panoramic vistas!
Your Cessna will wait for take-off behind other large commercial jets. Once the tower gives permission, the plane will accelerate down the runway as the engine roars to life. Soon you'll be airborne and climbing toward your destination of Sakurajima; first passing over Kirishima City and Kinko Bay. From the air, you can see lava flows that are closed to the public from land, and the check dams set up for stopping pyroclastic flows. Depending on the weather and timing of eruptions, you may be able to peer inside of the crater.
Enjoy a sky tour of Kagoshima with Kagoshima Sky View!
The Sakurajima Course that takes you close to the volcano is the most popular among visitors from other countries. In addition to Kagoshima Sky View, the company offers a total of eight courses including the 10-minute Kagoshima Airport Vicinity Special Course to experience flying in a Cessna, and a Night Flight providing a romantic experience.
People who viewed this page also viewed these pages.