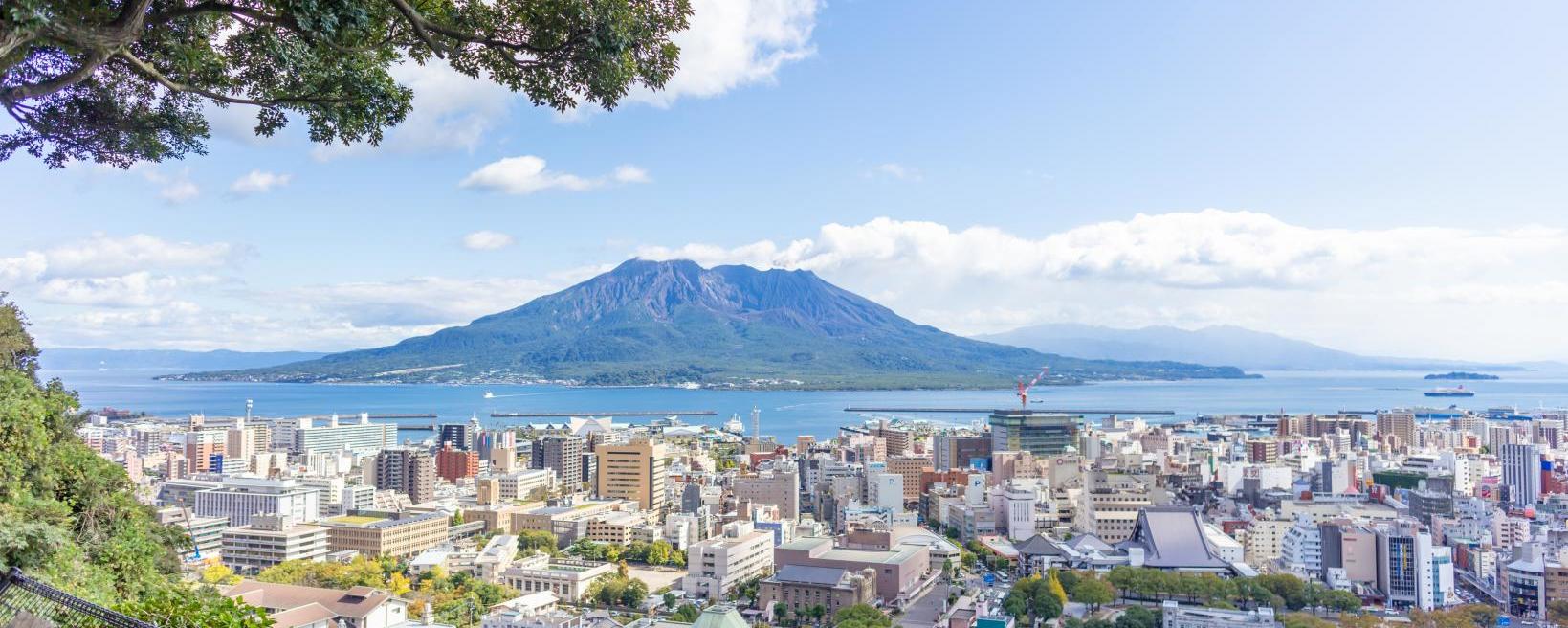 Set your foot on the ground of Sakurajima to discover more about the popular Kagoshima tourist attraction
Rather than just viewing from a distance, you should set foot on Sakurajima, the symbol of Kagoshima, to enjoy a landscape and activities only possible at the world famous active volcano.
First off, please check out this video offering a brief overview of the attractions of Sakurajima and Kinko Bay.
Activities on Sakurajima
There are a variety of tours that offer activities to fully enjoy Sakurajima's attractions.
A special opportunity to enjoy Sakurajima from the sky!
You can enjoy Sakurajima not only on land and sea, but even from the sky!

Head to Sakurajima, overlooking majestic mountains, the sparkling sea of Kinko Bay and the city of Kagoshima. A scenic flight over Sakurajima, with its rugged mountain surface and volcanic smoke rising into the sky, is sure to make a one-of-a-kind experience!
Two types of small aircrafts are available for charter; one for up to 3 people and the other for up to 9 people. Plan is recommended for groups to use, great value for money.

Flights depart from Kagoshima Airport in Kirishima City, so be sure to plan ahead to fit this opportunity into your schedule.
Check out the map of Sakurajima.
Sakurajima Island View bus is a useful way to get around Sakurajima.
Departing from Sakurajima Port, the Sakurajima Island View bus makes a 60-minute loop trip around Sakurajima. There are departures every half hour 15 times per day. You can save money with the CUTE one-day pass if you go to both Sakurajima and Kagoshima City.
Sakurajima is erupting. Is it safe?
According to records from the past few years, there are an average of 800 eruptions of Sakurajima each year. The volcano erupts on a regular basis. Even so, more than 4,000 people live at the foot of the volcano. There are 600,000 residents across the water, approx. 4 km from the volcano.
Column
Local residents always check the wind direction before hanging out their laundry.
When Sakurajima erupts volcanic ash falls so local residents must always check various forecasts to know the wind direction over Sakurajima.
Access to Sakurajima
From Kagoshima Port to Sakurajima Port takes 15 minutes by a ferry which runs 24 hours a day. You can also enter Sakurajima by car.
A special Sakurajima Ferry route
It usually takes 15 minutes to get to Sakurajima, but this ferry takes a special route so passengers can enjoy a more relaxing time.
Enjoy Yabukin udon noodles on the Sakurajima Ferry.
During the 15 minute Sakurajima Ferry ride, try Yabukin udon noodles, often mentioned by mass media. They are popular for their simple taste.
You might see dolphins from the ferry.
With luck you will see wild dolphins that inhabit Kinko Bay where many boat cross.
People who viewed this page also viewed these pages.